Boursault Rouge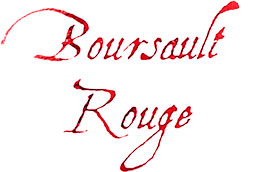 Coteaux Rouge Champenois
Palate: in the mouth, the mixed red berries and the delicate tannins form a delicate balance and make this this wine very pleasant. Easy-drinking, harmonious wine.

The attack is supple and elegant, coated by a freshness still quite present. The woody hints remain discreet and make way for the fruity aromas of the wine.
Suggested serving temperature: between 12 and 16°.
Time of conservation: Wine that may be enjoyed now with a cellaring potential of 5 years.
100 % Pinot Noir

Vintage 2012
Retail price per property :
Bottle 75cl
Important quantity contact us